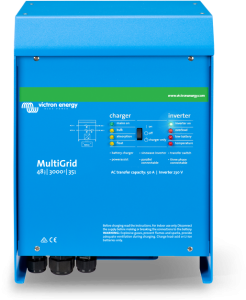 For many years Victron has offered really good quality equipment at a cost effective price and more over I really like it.
Recently they have released their new range of MultiGrid battery inverters. The benefit of the MultiGrid over the MultiPlus is it has inbuilt AS 4777 compliance so it can now be connected to the energy network, offering a real off grid solution whilst still feeding back excess or using the grid instead of a generator on cloudy days. The best bit is they sell for about $2500, which is a fraction of some of the others brands.
We have installed a complete on of these installations recently and have it setup on Victrons online portal for anyone who'd like to login and see it.
These are available to purchase online at http://offgridpowerequipment.com.au/